Oncology Rehab • Lymphedema • Orthopedic and Sports Rehab • Pulmonary Rehabilitation
Workers' Compensation • Wellness • Massage Therapy • Cosmetic/ Aesthetic Plastic Surgery Rehab
Welcome to the Therapeutic Solutions Experience
What you can expect
Announcements
Dr. Angelo Rizzo - Kosovo Hope June 2017 Grace Medical Team Trip
---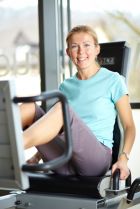 Are you sick and tired of being sick and tired?
Have cancer treatment side effects made you question if you will ever get back to your old self (or a better self)?
Physical and emotional limitations and impairments are common during and after cancer treatments like surgery, chemotherapy, and radiation therapy. Though your physicians may not have stressed this, strong scientific evidence now supports the critical role of education, physical therapy, and exercise during and after these cancer treatments to get you back to full function and an improved quality of life.
I hope to see you Sunday, April 23, 2017 when I will be discussing what you should be doing, during and after cancer treatment, to feel better, look better and be better.
Dr. Angelo J. Rizzo DPT, PT, CLT
Therapeutic Solutions, Inc.
1501 Milstead Rd. Conyers, GA 30012
(770) 922-2420
Oncology Rehabilitation, Orthopedic PT, and Lymphedema specialists
"While your physicians are adding years to your life,
we at Therapeutic Solutions, Inc. are adding life to your years."
---
October is National Breast Cancer Awareness Month and National Physical Therapy Month.
Oct. 24, 2016 • SAVE THE DATE
Come help us celebrate. In appreciation of all our former and current cancer rehab patients, we will be holding a mini-reunion party at our Conyers office Monday Oct. 24, 2016 from 4:00 - 6:00 P.M.
Food and Drinks and Fun. Bring your smiling faces. Please RSVP by Thurs. Oct. 20, 2016 either through info@therapeuticsolutions.com or call our office at (770) 922-2420.
---
Therapeutic Solutions, Inc. is pleased to welcome Angie Joseph the newest member of our team. She is a licensed physical therapy assistant and licensed massage therapist. She also is specialized as an aquatic therapist.
---
September 2016: Congratulations to Dr. Angelo Rizzo who has just completed his Doctorate degree in Physical Therapy with specialty in private practice operations and management through the Executive Program for Physical Therapists at E.I.M.
---
The Role of Exercise and Rehabilitation in the Cancer Care Plan
Presented by Angelo Rizzo, MS, PT, CLT
The integration of an oncology physical therapist throughout the cancer survivor trajectory can benefit both advanced practitioners and survivors, according to Angelo Rizzo, MS, PT, CLT, President and Founder of Therapeutic Solutions, Inc, Oncology Rehabilitation and Lymphedema Clinic, Conyers, Georgia. Physical impairments of patients undergoing cancer treatment can impact functioning and quality of life throughout survivorship, but exercise and rehabilitation may mitigate some of these treatment-related adverse effects and comorbidities, he said...
For Full Article
Our Specialties
Pain & injuries happen, don't let that stop you from discovering your best.
Our Physician Recommendations
I have had the opportunity to send many patients to him and I have always been impressed with his determination, patience and compassion at the bedside. I cannot recommend him enough.
Richard A. Carter, MD RAC/p
I see that Angelo and his colleagues at Therapeutic Solutions are selfless and their main goal has been to encourage patients to improve their quality of life and help them gain the strength they lost while undergoing treatment for cancer.
Jayanthi Srinivasiah, M.D.
Read More Testimonials >
Our Patients Testimonials
Thank you Angelo Rizzo for everything you do to fight for, heal, and honor breast cancer patients. Those of us who have traveled that journey with you know how priceless you are.
Karin Sullivan
To physicians in general, who care for post-chemotherapy cancer patients, I can highly recommend Therapeutic Solutions for this aspect of physical therapy.
A. Gordon Brandau, Jr., M.D., FACC
Medical Director, Primerica Life Insurance
Read More Testimonials >